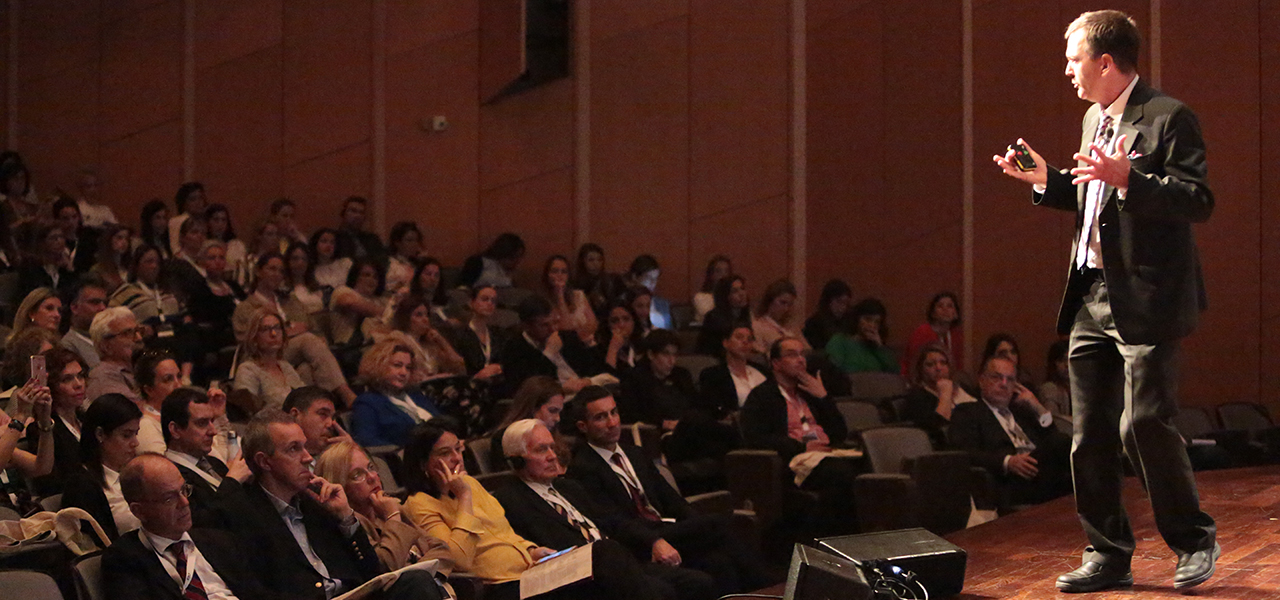 The CGS Educational Conference 2018 was a highly successful event, organised by CGS, a school with more than 40 years of presence in the education sector and a member of the global family of the International Baccalaureate (IB) for over 20 years.
At the Dimitris Mitropoulos hall of the Athens Concert Hall, participants had the unique opportunity to attend presentations on the Redefinition of the Learning Process and the Key Role of the Educator given by leading Professors from Harvard University and the University of Montreal Saint-Saveur in Quebec.
In their opening speech, the hosts Christos Geitonas and Zoi Geitona stated that this conference is relevant to each and every educator in many different ways. It appeals to their individual learning processes and this in turn directly affects the teaching approaches they adopt. The conference proposes ways to be more effective, successful and fulfilled. 'Learning something is easier if we manage to forget everything we knew about it until now,' they concluded.
Mrs. Niki Kerameus, State Constituency MP and Head of the Education, Research and Religious Affairs Sector for the New Democracy Party, in her welcoming remarks to the audience, noted that "it is our duty to equip our children with skills that will enable them to adapt to a constantly changing environment".
In her keynote address entitled "Importance of Teachers in 21st Century", Katherine K. Merseth, Senior Lecturer on Education, Harvard Graduate School of Education, referred to the educators' role and how it needs to evolve in order to keep up with the increasing challenges of the 21st century society. She provided   examples of various  effective methods followed by educators in different countries all over the world and noted that "educators need mentors to guide them".
In the near future, many children will be in lines of work that have not yet been created, and will be using technologies that have not been invented yet. Furthermore, many scientists believe that soon we will be able to connect our brains to the Internet. In this context, how can a school prepare children for  lifelong learning? Eric Lauzon, Professor at the Université de Montréal Saint-Sauveur, Quebec, The Art of Learning International, argued that "educators will have to dedicate more time to teaching their students various skills".
In his speech, Pr. Robert G. Kegan, The William and Miriam Meehan Research Professor in Adult Learning and Professional Development, Harvard Graduate School of Education, maintained that "in most organizations, almost everybody has a second job – for which they are not being paid. More particularly, employees work hard to conceal their weaknesses in their effort to make a positive impression at the workplace. There is no greater ongoing waste of a company's most valuable resource – time and energy of its personnel".
"What do we need to be successful? The reasonable answer is 'wit' (intelligence) and 'grit' (hard work and perseverance). However, the whole story is not that simple", argued the final keynote speaker of the conference Dr. Howard Gardner, Harvard Graduate School of Education, Adjunct Professor of Psychology, Faculty of Arts and Sciences, Harvard University.
According to Dr. Gardner, we need to make additional efforts aimed at improving other people's lives and society. In his presentation, he described an educational framework which positively utilizes students' intelligence and "well-intended" perseverance and provided specific suggestions on how to move forward into a society which is "wise" and, at the same time, cares for its members.
After the conclusion of the presentations, CGS Head of School Mrs. Eleni Vasileiou, thanked the speakers and pointed out that each one of them had "encouraged us to reconsider the various 'whys' behind education, to reinforce our thoughts and turn them into beliefs, to re-examine learning and development possibilities which lie ahead. Let us draw further inspiration on how to promote change".
Finally, Mrs. Vasileiou invited the audience to attend the CGS Educational Conference 2020.
The second part of the conference included three workshops:
"Overcoming the Immunity to Change" with Pr. Robert G. Kegan
"Developing Rigor through a Focus on the Instructional Core" with Pr. Katherine K. Merseth
and
"How ATL skills can be practically implemented in the classroom" with Pr. Eric Lauzon.