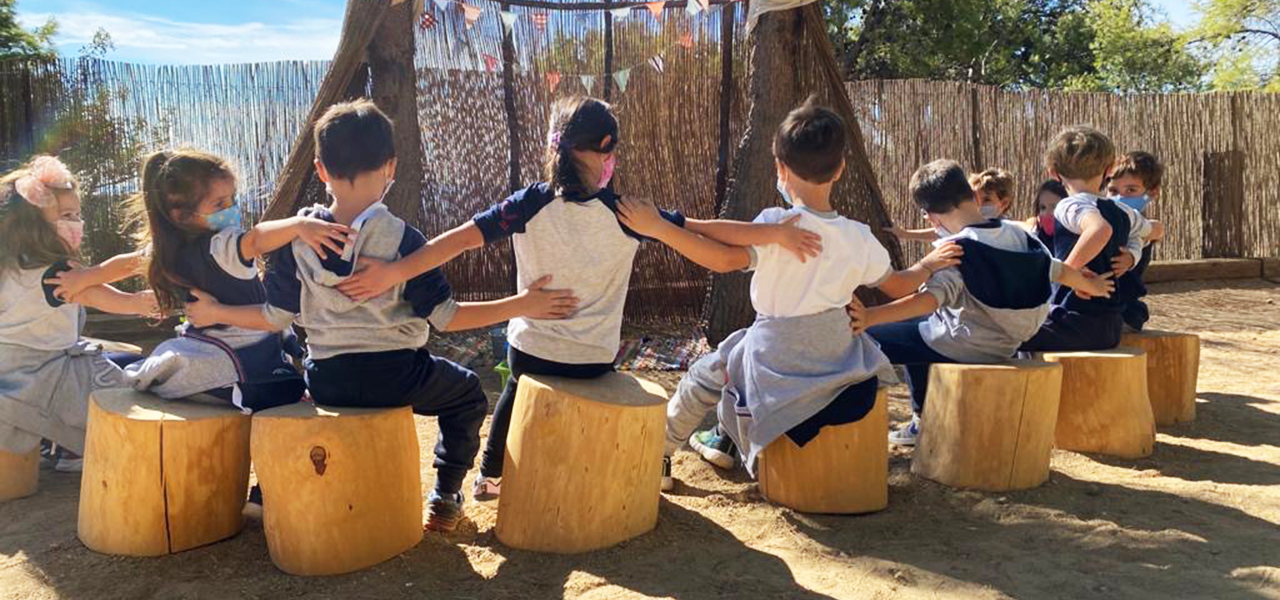 CGS Education
Within the framework of the IB, CGS was the first and still is one of the few schools in Greece to offer high quality educational services to even very young students:
CGS Pre-School Bilingual Education – NURSERY SCHOOL
CGS and the Department of Education at Dundee University have combined their invaluable experience to collaborate on the design and implementation of a programme for 2-4 year olds.
The CGS Pre-School offers each child the opportunity to make the most of their abilities and to make the best start to school. Our IB Primary Years Programme develops language skills in both English and Greek equally, focuses on the all-round development of younger children, approaches knowledge through inquiry and arouses children's natural curiosity, while also supporting each child's learning individually.
The coexistence of a Kindergarten school, Nursery school and Primary school in the same location helps a child to make the transition to the next educational level smoothly and to adapt to new conditions faster and better.
The three years of the Nursery school follow a specific curriculum and subject matter, as laid down by the IB, and take into account the crucial importance of the first 3-5 years for the children's subsequent academic and psychological development.
1. STEM
STEM (Science-Technology-Engineering-Mathematics) is a new curriculum that was first introduced in the US and is now a global trend in the field of education.
CGS has pioneered the establishment of the first STEM Academy in a Greek school. It aims at:
the promotion of inquiry-based learning and the "learn by doing" philosophy in the educational process
the across-the-board use of technology (tablet, specialized software, scientific experiments, 3D printer, etc.)
linking STEM courses to the daily life of schoolchildren
enhancing and linking the various STEM courses
The emphasis on the experimental process in science courses and in activities such as Coding, Robotics, Design and 3D printing are practices that are already in place or are gradually being introduced into the everyday life of the school, at all levels, from Nursery school to C' Lyceum and IB DP.
2. SMART (Sports – Music – Arts – Recreations of Tomorrow)
CGS offers a wide range of activities so that students can discover "extra-curricular" talents that they could possibly make use of professionally later on, but can also take up hobbies or interests leading them to eventually forming complete personalities. CGS boasts state-of-the-art training facilities, partnerships with leading athletes and sporting organizations (Nikos Boudouris Basketball Academy, Juventus Soccer School), a Computer lab, a Stem lab, a Conservatory, a Visual Arts workshop, and encourages students to make use of the facilities during and outside regular school hours.
  International Collaboration with JUVENTUS SOCCER SCHOOLS
In October 2009, Juventus Soccer Schools launched its first exclusive international collaboration serving both Greece and Cyprus with CGS.
The Juventus Athens Academy is a unique, internationally recognized education model and is the result of the study of the various aspects of the physical and personal development of children. The model is based predominantly on the selection and training of coaches and staff, certified by the Studies Centre of Juventus Soccer Schools (Τurin University, Juventus Academy), and the existence of a scientifically defined educational framework.
It caters for boys and girls aged 5-16 who share a love for soccer. Training sessions and progress are supervised and evaluated by Juventus Soccer Schools, Italy. After the first year of collaboration with CGS and the very successful performance of Gollissimo and the Juventus Summer Camp, Juventus Soccer Schools expanded its operations with the creation of the Juventus Athens Academy.
Currently, the programme is run by six academies with a total of over 500 registered members. Besides the day-to-day running of the programme within the academy, more than 400 participants take part in programmes such as the Juventus Summer Camp, Juventus Personal Training and Gollissimo.
3. Library
Our library, which stocks more than 25,360 books, is to be found at the hub of our school's facilities. Within the framework of our philosophy to enhance our students' library culture and research skills, a Reading Club (the Bookworm Club) has been specially designed.
Our library is also a very important stage for almost every educational process, whether of long or short duration, and conceptually symbolizes respect for knowledge and its need to be continuously renewed.
4. Conservatory
Providing state-recognized accreditation as well as degrees, the CGS Conservatory offers a wide selection of quality musical studies.
In collaboration with the distinguished soloist and piano teacher Efi Agrafioti, the CGS conservatory boasts outstanding musicians, namely  Alexis Theofylaktos (principal Lyrikís Skinís), Gina Markouli (soprano), Sonia Milenkovic, Simos Kokavessis and Amalia Raftopoulou. A level of music studies on a par with the Conservatories of Athens is available.
5. Summer Camps
In order to involve children in creative activities after the end of the school year, CGS designs programmes that combine recreation / sport / knowledge. Soccer, basketball, windsurfing, tennis and drama are some of the themes of the Summer Day Camps which are taught alongside English lessons.
6. CGS MUN
The Model United Nations (M.U.N.) is a non-profit, non-governmental educational organization which is directly linked to the United Nations (UN) and organizes annual student conferences in countries all over the world. The culminating conference is held annually in the Hague (THIMUN). The purpose of the M.U.N. is to raise young people's awareness of global problems, to improve their rhetorical skills through public speaking and the substantiated support of their ideas, as well as to acquire knowledge through the research and study of international issues, problems and developments. Since 1996 CGS has participated in the Model United Nations, and since 2005 it has organised the CGS -M.U.N conference. Seven schools in Athens host M.U.N conferences. Certified student participation at MUN conferences is a significant asset for applications to major universities abroad.
7. CGS Alumni
CGS Alumni aims at supporting its members professionally and intellectually as well as fostering relationships. It is a community of people from various backgrounds, focused on bolstering tomorrow's citizens and the leading executives of Greece, Europe and the World in the challenges they face in the new century. The Alumni Association counts over 3,500 members.
8. CGS Research and Development Department
The Research and Development Department is active in the development of wide-ranging and systematic research.
Its main task is to research issues that currently concern Greek and International education at all levels, from pre-school to tertiary and non-formal education. Utilising European expertise,   its primary aim is to contribute to the qualitative upgrading of education offered to Greek society. In the period 2012-2014, the following research projects were carried out mainly in school education: the long-term and systematic improvement of the quality of education and how it can help maximize its contribution to society, to address the multitude of challenges of modern times and enhance the opportunities that are being created.
The Relative Merits of CGS
1. Control Assessment
At CGS, assessment is an integral part of each programme at each educational level. Internal and external assessments are carried out through the school's links with internationally recognized organizations. Assessment at CGS far exceeds the simple, stereotypical and ultimately unrepresentative "grading". On the contrary, there is continuous assessment and reflection on every aspect of school life, such as the relationships developed between parents-teachers, the learning process, performance, progress, emotional development, academic and professional development of our pupils and of the infrastructure.
CGS collaborates and is evaluated by International and National Organizations and participates in teacher training programmes, exchange programmes involving European schools and joint educational and training programmes. International Baccalaureate (PYP/MYP/DP), Harvard Graduate School of Education (Executive & Staff Training Programmes), ECIS-European Council of International Schools (Executive & Staff Training Programmes), Comenius (European Staff Training Programme), Model United Nations (A non-profit, non-governmental, educational simulation for diplomacy, international relations and the work of the United Nations), Educational Testing Service (ETS) Examination board lfor SAT, PSAT, AP, ΕCDL (Computer Literacy Examination board), EDEXCEL (Examination board for Academic & Professional Qualifications), University of Cambridge International Examinations (Examination board ), British Council, Institut Français d 'Athènes,  Goethe Institute Athens, Goethe Institute Thessaloniki, Juventus Soccer School/Juventus University (Soccer Academy and University which co-operate exclusively with Juventus FC).
2. Student Counselling Support
At CGS, we consider a student's mental support to be essential in the educational process and at all levels, and for this reason we have created an ultra-modern department of Student Counselling Support within the school. In particular, in the case of learning difficulties that require further investigation, the school provides, after formal parental consent, personalized support services for pupils during and after the completion of the compulsory school curriculum (learning rehabilitation, parent counselling, play therapy, etc.). Our Counselling department caters to the needs of pupils of all grades of the school and is staffed by psychologists, school teachers and collaborates with institutions, institutes and specialists from both Greece and from all over the world.
3. Student Handbook
At CGS, we annually publish a Student Handbook that refers to the operation and principles of the School. In particular, it refers to the school's IB Mission Statement, Academic Administration, Special Programmes, Daily Operation, Regulations and their implementation, Communication with Family / School / Student / Teacher, Health and Hygiene, Nutrition, Diet and Safety. The handbook is revised every two years.
4. Social – Environmental Contribution
At CGS, students adopt important roles, are actively involved in local and global events, learn to see themselves as members of a wider social community and feel responsible towards others and the environment. Through actions as well as involvement in group projects, etc. as part of the regular morning programme, our students are sensitized as citizens within different social groups.
5. Foreign Languages
At CGS, we place considerable emphasis on learning and practising foreign languages, taking into account that students should become acquainted with an environment similar to what they will live and work in. Besides English, students may choose from either French or German as a second foreign language and Italian or Chinese (Mandarin) as a third. In particular, comprehensive and in-depth learning needs are met and examination preparation courses leading to students being able to sit certificates in English can be attended so that a student does not require additional tuition.
6. Facilities – Playgrounds
CGS is built on an area of ​​75,000 square metres on a hillside in Pallini, whereas the actual buildings exceed 14,000 square metres. It boasts two indoor swimming pools, numerous courts, spacious and safe playgrounds, organic flower beds, pine-tree hills, a small farm but also a kindergarten courtyard designed using eco-friendly materials by the award-winning designer Polyanna Paraskeva (Sand Castle / Costa Navarino). CGS sports facilities ensure excellent training conditions for students. An important factor in the development of our students is that they spend their day in a clean environment, close to nature.
Photographs of facilities: https://cgs.gr/en/our-campus/