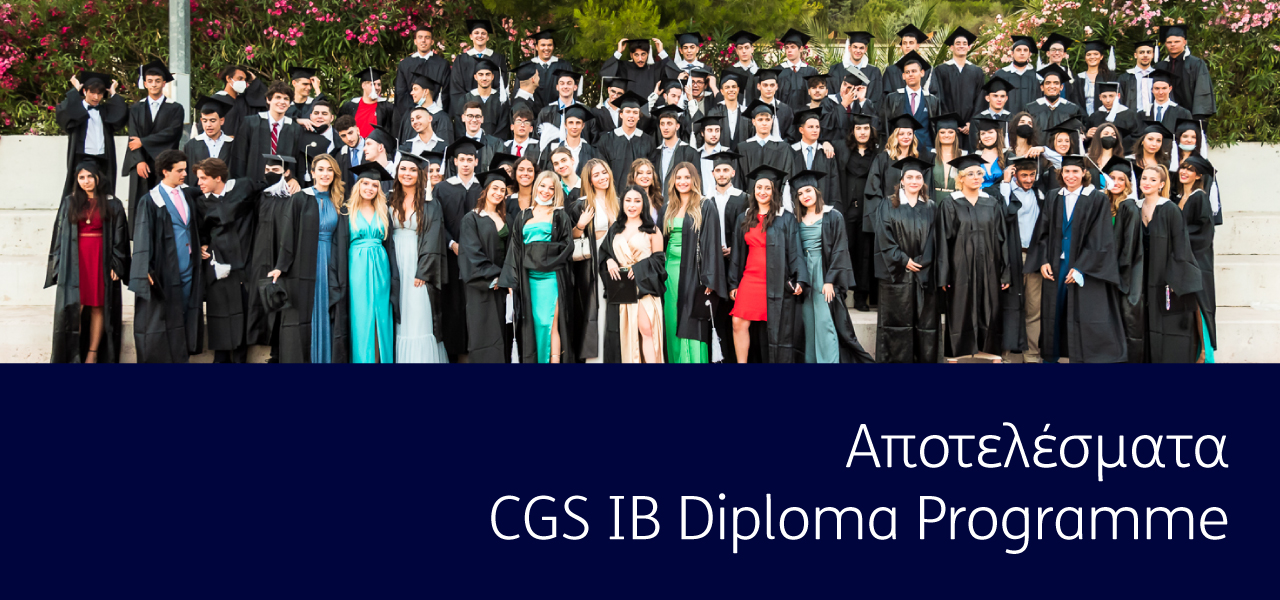 Outstanding results during an exceptional year
Heartfelt congratulations to our students who, in these very special circumstances, remained committed to their goal and achieved excellent results in the IB Diploma. We are both proud of them and wish them good luck in their academic lives.
Congratulations also to the teachers of IB DP who, with their great experience and the right guidance, contributed decisively to this success.
Our students' results are as follows:
100% of our students received the IB Diploma.
Two students received the IB Diploma with the highest grade, 45 out of 45.
38% of our students excelled, earning a grade of 40 or higher on their IB Diploma (the corresponding global percentage is 9%)
The average grade of the IB Diploma at CGS is 38, a grade that allows our students to be admitted to the most competitive universities in the world.
100% of our students are admitted to universities of their 1st choice.
The following table contains our students' results and the universities that they have been admitted to.
Please find the detailed results, degree programmes and universities for the Class of 2021.
| | | | |
| --- | --- | --- | --- |
| Score / 45 | Degree | Choice | University |
| 45 | Chemical Engineering | 1st | Technical University of Eindhoven |
| 38 | Political Science | 1st | University of Amsterdam |
| 43 | Economics & Mathematics | 1st | Yale University |
| 42 | Business Administration | 1st | KU Leuven |
| 35 | Psychology | 1st | Tilburg University |
| 40 | History | 1st | King's College London |
| 37 | Economics & Business Economics | 1st | Erasmus University Rotterdam |
| 42 | Computer Science & Engineering | 1st | Technical University of Delft |
| 37 | European Law | 1st | Maastricht University |
| 40 | Electrical Engineering | 1st | Technical University of Eindhoven |
| 35 | Yacht Design and Production | 1st | Solent University, Southampton |
| 31 | International Business Administration | 1st | Tilburg University |
| 43 | Economics and Social Sciences | 1st | Bocconi University |
| 40 | Medicine | 1st | University of Newcastle |
| 29 | Crossmedia Design | 1st | ArtEZ University of the Arts |
| 44 | Electrical Engineering | 1st | Technical University of Eindhoven |
| 37 | Business Administration | 1st | KU Leuven |
| 31 | Economics & Business Economics | 1st | Maastricht University |
| 28 | Entrepreneurship & Business Innovation | 1st | Tilburg University |
| 43 | Electrical Engineering | 1st | Technical University of Eindhoven |
| 45 | Maastricht Science Programme (MSP) | 1st | Maastricht University |
| 45 | TBC | 1st | TBC |
| 38 | Civil Engineering | 1st | University of Edinburgh |
| 39 | Computer Science & Engineering | 1st | Technical University of Eindhoven |
| 35 | International Business | 1st | University of Groningen |
| 38 | Computer Science | 1st | Technical University of Delft |
| 35 | Computer Science & Engineering | 1st | Technical University of Eindhoven |
| 40 | Econometrics | 1st | University of Amsterdam |
| 40 | Computer Science & Engineering | 1st | Technical University of Delft |
| 31 | Business & Management | 1st | James Madison University |
| 39 | Computer Science & Engineering | 1st | Technical University of Eindhoven |
| 36 | Food Technology | 1st | Wageningen University |
| 40 | Computer Science | 1st | University of Warwick |
| 34 | Biology | 1st | Universität Konstaz |
| 43 | Electrical Engineering | 1st | Technical University of Eindhoven |
| 33 | Industrial Design | 1st | Technical University of Eindhoven |
| 43 | Molecular Life Sciences | 1st | Radboud University |
| 40 | Language and Culture | 1st | UCL |
| 35 | Business Administration Management | 1st | University of Toronto |
| 32 | Philosophy | 1st | Vrije University of Amsterdam |
| 37 | Chemical Engineering | 1st | Loughborough University |
| 32 | International Business Administration | 1st | University of Twente |
| 34 | Industrial Engineering | 1st | Technical University of Eindhoven |
| 29 | Chemistry with Foundation year | 1st | University of Kent |
| 38 | Politics, Psychology, Law and Economics | 1st | University of Amsterdam |
| 39 | Aerospace Engineering | 1st | Technical University of Delft |